I think one of the things that's going to carry over from Fabulous @ 50 is my reviews of The Biggest Loser. If you followed me over there, you can skip the backstory. If you haven't, you probably need to know both why and that I have a love/hate relationship with the show.
The "love" part of it dates back to when the show first began. After a few years I came to the point where I felt that the show would be my only salvation, prompting a trip to LA where I met up with Ellen to stand in line for hours. I thought I'd discovered the best way for me to get healthy.
Back then, we looked like this: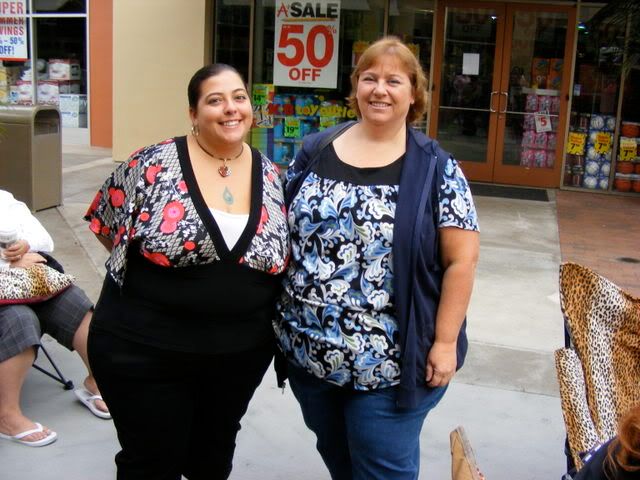 Ellen and I at a live Biggest Loser Casting Call in LA 2008
What I ended up discovering was that Bob Harper wasn't going to come and rescue me, and I had to do it myself.
So I did.
that is not my miniature horse, btw, just one I had the honor of posing with at the NM State Fair
During that time, the show and I had both changed. It became about the drama in the house, and I became less interested in the big drama and big loss, although I kept watching the show. While the show had more "fat", I had less. Working out, and after about 100 lbs down, surgery, brought me down to a weight lower than that I graduated high school at.
This season I've been happier with the show. They cut it back down to one hour, focused more on the challenge, the weigh in, and one contestant's story, and while I still am less than happy with some of the quick fix mentality of the show (although the show makes it clear this is a jump start to a new lifestyle), I find myself watching week after week.
So this week's episode?
(if you haven't seen it yet, here come the spoilers)
Jennifer's self doubt played a bigger role in the episode ads and previews than the show itself. I think that's unfortunate, because that issue of self doubt and motivation is one that everyone trying to lose weight faces. Of course Jennifer quickly realizes that the "I can'ts" aren't getting her anywhere, and her harsh self judgement neglects to take into account the amount of weight she's lost and strength she's gained up to this point.
The season ends with two eliminations (no vote, purely based on who falls below the line) and all the contestants showing surprise at the "twist" in the game. It wasn't much of a twist. Like so many other seasons, the eliminated contestants are getting a chance to win their way back onto the ranch. It's set up as a cliff hanger, the season resuming on January 7th. So instead of two seasons (fall and spring) it looks like we're going back to one season in a 12 month period, with a late fall start and, I'm assuming, and early spring end.
So, yes. On January 7th I'll be watching. But I won't miss it too much in the interim.